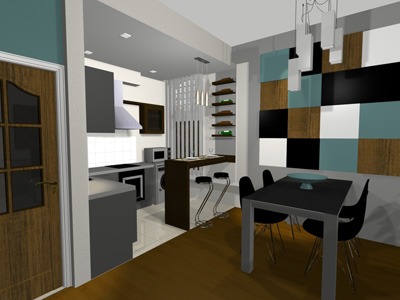 Interior Design
renovation
Renovation of apartment. The client wanted a design that could bring together comfort and character in a contemporary style. To meet his requirements I worked with blue and grey patterns and colours.
The colour blue promotes physical and mental relaxation, it drives order and direction and it's perfect for living and working spaces. Using it in small quantities, in objects or in a paler shade for wall coverings, blue will catch the eyes and give character to the room.
The colour grey, also used in this project, is a safer colour to use, it resembles safety, security and a balanced existence. It makes a perfect contemporary space if used correctly.
Two main changes were given priority in this design. Before it was an open-plan living room and kitchen. I tried to keep the spacious feeling that existed before, but to give character to the room I focused on creating two main areas, one would be composed of a bar table between the kitchen and the dining area, giving convenience to receive friends for dinners or drinks and by moving the sofa to a new location in the room and by placing the TV stand also in a new location, I created a home-theater area perfect for chill out moments and movie sessions. In the dining area I created an exclusive wall panel, which will catch the eye and give a good impression to whom enters this apartment.